Short Biography of D. H. Lawrence:
David Herbert Lawrence was born in Eastwood, Nottinghamshire, in 1885, to a coal-miner named John Lawrence and his middle class wife Lydia. The two were incompatible for various reasons, but particularly because of their cultural disparity. The father was scarcely able to write his name, and read the newspaper with great difficulty, while the mother was educated, wrote poetry and had worked as a teacher. Physical attraction had been the only reason that they had married each other.
When he was sixteen, David left school to work for a surgical-appliance manufacturer in Nottingham. His older brother, William, to whom his mother was very attached, fell sick and died. The mother recovered from this shock only because David also fell seriously ill, and she nursed him back to health. A close bond developed between the mother and son, so much so, that as a result of her possessiveness, he had to terminate his relationship with a young friend, Jessie. His mother died after a long illness, and he also became ill with tuberculosis.
He decide to take up a teaching post in Germany with the help of Professor Weekley, but fell in love with his German wife, Frieda, and later married her. Though he had been writing stories and articles earlier, his first important work was The Tresspasser published in 1912. Later, he published Sons and Lovers (1913), The Rainbow (1915), Twilight in Italy (1916), Women in Love and The Lost Girl (1920), The Plumed Serpent (1925) and Lady Chatterley's Lover (1928). He died in 1930.
Characters of Sons and Lovers:
Walter Morel: Father of Paul Morel, husband of Gertrude Morel.
Gertrude Morel: Paul's mother. Intensely hates her role as Walter Morel's wife.
William Morel: The first Morel child. Mrs. Morel transfers her affections for her husband to William.
Paul Morel: Protagonist of novel. Quiet, shy, reserved by nature but intensely passionate and emotional.
Annie Morel: The only daughter of the Morel family. Paul is very close and loving to Annie.
Arthur Morel: The last of the Morel children. He is wildly impulsive, antagonistic, emotional and temperamental.
Beatrice: Arthur's wife and mother of his child.
Miriam Leivers: The first girl Paul ever loved.
Mrs. Leivers: Miriam's mother whose personality and temperament is like Miriam's.
Edgar Leivers: Miriam's elder brother whose companionship Paul enjoys.
Agatha Leivers: Miriam's elder sister who chastises Miriam for being so free and open with her feelings for Paul.
Clara Dawes: The older, defiant woman with whom Paul has a passionate relationship.
Baxter Dawes: Clara's husband.
Thomas Jordan: The elderly manufacturer whose company, Thomas Jordan & Sons, Surgical Appliances, Paul works at.
Mr. Pappleworth: Paul's boss at Thomas Jordan's.
Fanny and Polly: The factory girls at Thomas Jordan's. Paul enjoys talking to them.
Louisa Lily Danys Western: The high-society, stupid fiancee of William's.
Summary of Sons and Lovers:
The first few pages of the novel introduce us to the setting of the novel, which is the mining village of Bestwood . The mother, Gertrude Morel, is expecting her third child, which they cannot afford. Walter, her husband, is a miner, and as usual, comes home drunk. She comes from an educated family and married him because she was attracted to him because he was virile and a good dancer. He ostensibly is a hard-working homeowner, but in reality, does not own any house and is in debt. She soon realizes that he will never grow mentally or emotionally, and never fails to remind him that he is a failure. An example of their discord is the episode when Walter cuts off William's curly locks, for which she makes him feel terrible. Another such episode is when Walter thrusts her out of the house because she objects to his drinking with Jerry. Lawrence describes vividly how she communes with nature and the floral imagery is extremely effective.
Walter tries to show his contrition for her by doing little jobs for her. Soon she gives birth to a son whom she names Paul, and with whom she forms a special relationship. Mrs. Morel always takes the children on her side in the war with Morel, and though his behavior is deplorable, her tactics are inexcusable. Morel falls ill and is confined to bed. There is peace in the house and about a year and a half after Paul's birth, a son is born and is named Arthur, who becomes Morel's favourite. When Morel tries to discipline his children, but Mrs. Morel stops him from striking William, and he loses all authority in his house. As William gets a good job, he moves to the centre of the stage.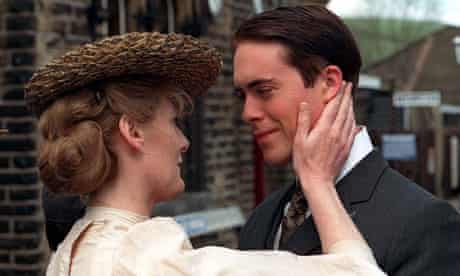 The only time Morel establishes some rapport with the family is when he has a job to do about the house. Then Paul gets an attack of bronchitis, and though the father also ministers to him, Paul wants his mother near him all the time. They all look forward to William's homecoming at Christmas. In the meanwhile, Paul settles down in his place of work, and once, enjoys an outing with his mother. William returns home with his girl, Lily, and the mother does not approve of her. He returns with her again at Whitsuntide, and they play about with Paul and others in the countryside. Paul likes her, but Mrs. Morel is disgusted and as a result William is in a confused state of mind. He returns to London and falls ill. Mrs. Morel goes to nurse him, but he becomes delirious and dies. She is distraught over his death but survives because Paul falls seriously ill and has to be nursed back to health. The bond between them becomes stronger than ever, which may create problems for him later.
In Part II of the book Paul takes up his friendship with the Leivers family, particularly with Miriam, who is their pretty sixteen- year old daughter. As Paul and Miriam pursue their common interests in nature and books, Mrs. Morel begins subtly and indirectly, to reject Miriam. When Paul is twenty, the family decides to spend a holiday by the sea at Mablethorpe. Taking Miriam and other friends with him, Paul joins his family in the outing with a great spirit of adventure. During the holiday, Mrs. Morel's resentment towards Miriam increases, and Paul is irritated because she is unresponsive to his amorous advances. One day, Paul meets Miriam in the company of Clara Dawes, of whom he approves wholeheartedly. Miriam realizes that his bond with his mother is such a strong one that it pulls him away. She decides that he has higher and lower desires, and that, if through Clara, she can burn away the lower ones, she might have him for herself. Paul's bond with his mother is becoming stronger but also a little bizarre, as is seen
when he takes her on a holiday to Lincoln. Paul tells her about Clara and she is glad that Clara is available to Paul because Clara, she feels, will take his body but leave his soul to her. Paul sends a letter to Miriam telling her of his decision not to continue with her any longer.
He then begins to see more of Clara and his passion for her increases. He begins to visit her at her house, and soon becomes her lover. At home, he announces his break with Miriam, and his mother, sensing his anguish, consoles him with a few words of approval. Clara's rejected husband, Baxter Dawes, comes to know about them and one day, insults Paul in the bar until he throws a glass of beer in Baxter's face. His feelings for Baxter vary between pity and hate, probably because he is a father-figure to him. Though Paul lives with Clara for some time, he feels that love stifles him, crushes his creativity, and decides to break off. Paul's mother is taken ill and the family realizes that her illness has no cure, and that she has to be dosed with morphia to reduce the pain. When her condition worsens, one day Paul and Annie give her an overdose of morphia and she dies. After his mother's death, life seems to be a void for him and everything has an air of unreality. He meets Miriam but their relationship does not improve, and they decide to part. Paul travels to the country and gazes at the night sky. He thinks again of his mother but does not give in to his emotions. He strides quickly towards the lights of the city, towards life and hope.